09 Sep

Saturday – Back to Work (original post date 4/12/09)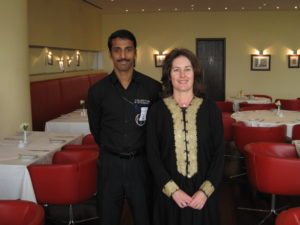 Whew – that Friday night date night about wore me out!!
Saturday is a little unusual to start the work week but that's what they do around here. I decided after having my morning cup of tea and toast, not burned, thank you very much, that I would head out on my own to do some exploring. Didn't get very far – stopped in a couple of stores and then headed to a book store/office supply. After about 30 minutes I decided to "returned from whence I came" – the apartment. Wanted a coffee so I stopped in at Starbucks (it's right across the street from our apartment). These folks recognized me from the time I came in with Gary. Of course, there aren't many western women walking around so it wasn't all that difficult for them to remember me. However it could have been my bubbly personality they remembered (ha). I had on a ball cap and tennis shoes so I was really styling along with my Abaya. I consider this my workout attire! The Starbucks visit lasted about 40 minutes and then they moved me on out because of Salah (prayer time). They close down all the stores for 30 minutes during Salah. The first Salah starts at 5:20 am everyday with the last one at 7:30 – 7:40pm. They pray 5 times a day.
Once I made it back to the apartment I immediately could tell the housekeeping staff had cleaned the apartment – smelled like that old Rose Water splash/perfume some our grandmothers used to wear – thought I would gag. They like perfume around here – there are tons of stores that sell only perfume.
I decided it was time for June Clever to hit the kitchen and start preparing our first home cooked meal – BBQ chicken, green peas and baked sweet potatoes. Cooking in a gas over sure doesn't take as long as a regular oven. I am proud to say no burned food this time around.
After dinner we made one more trek to the mall because Gary left his sunglasses at the Harvey Nichols store restaurant on Thursday. Dominique, our waiter-photo above, had held the glasses for Gary. As soon as we walked into the restaurant, he immediately retrieved them for us. That's the really nice thing about these folks – they always remember "us westerners" and are usually very friendly. So far I can say the customer service here is top notch.
Well that was my day in Riyadh. We leave Wednesday afternoon for Bahrain – it can't get here fast enough! Feel free to leave comments on this blog page – it's always nice to hear your reactions to being in the Middle East!
Until then….
Enjoy your day!!